Damascus Steak Knife
You don't need much experience to cook delicious meals, but you need the right tools to eat with. A master can't do their job without the essentials, which is true of steak knives. Take advantage of the fantastic precision and the perfect implement to cut through steaks, chops, and other hard-to-carve meat products.
A Work of Art
Our Damascus steel kitchen knives are unmatched in quality, efficiency, and usability. From the sharper bevels that keep their edge to the lifetime of use thanks to their durability.
Most kitchen knives we use in the west quickly become blunt, making slicing and dicing an experience to dread. Our top-tier blades stay razor-sharp and have the durability to last a lifetime.
Perfectly Balanced
You want a knife that feels balanced when you hold it and impressive when you use it - and our Damascus Steak Knife is both!
This seriously sharp blade is a vital household piece of cutlery for hosting casual and formal get-togethers when delicious meats and roasts are served to friends, family, and other guests.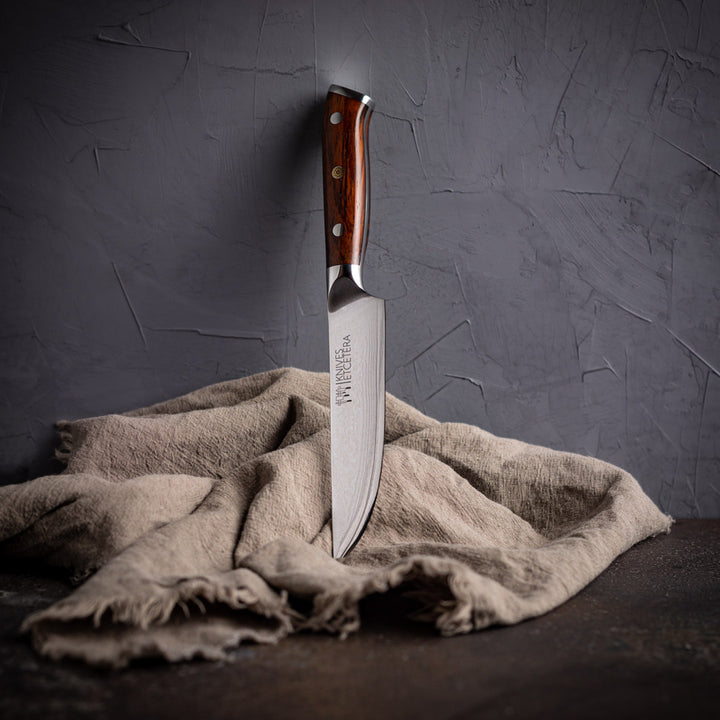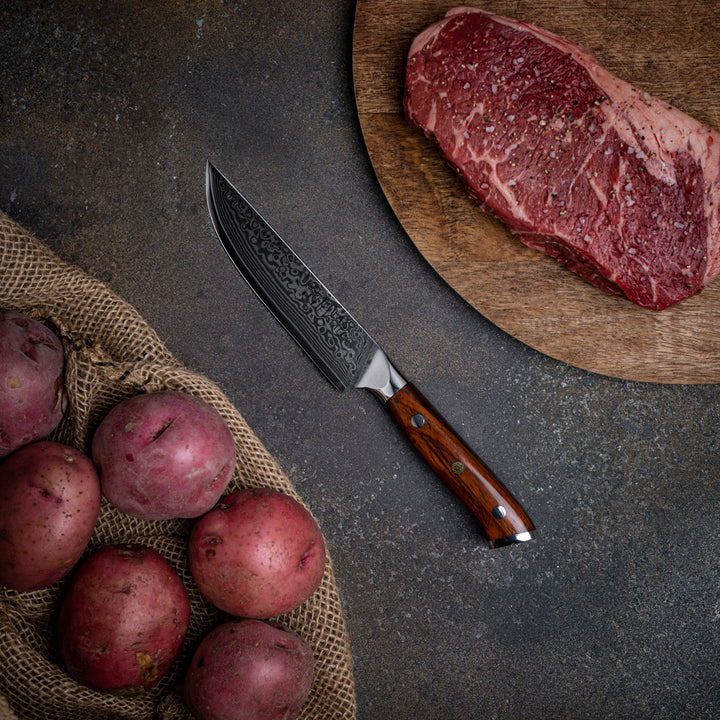 Masterfully Crafted to Last a Lifetime
Our signature Damascus steel kitchen knives are the finest in craftsmanship, materials, and performance. With 67 layers of Damascus steel enamored on either side, these beautiful blades will stay with you for some time.
Forged in Legend
Damascus steel has a history of being forged into legendarily sharp blades, claiming that it could split a hair simply by falling on the blade's edge.
Previously lost for centuries, modern blacksmiths have recovered this ancient forging technique. And now, we're bringing it to you.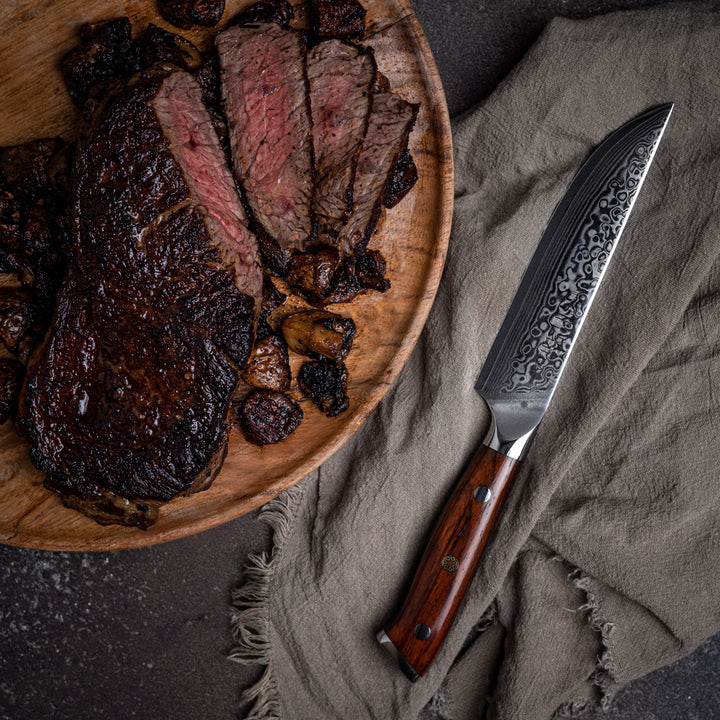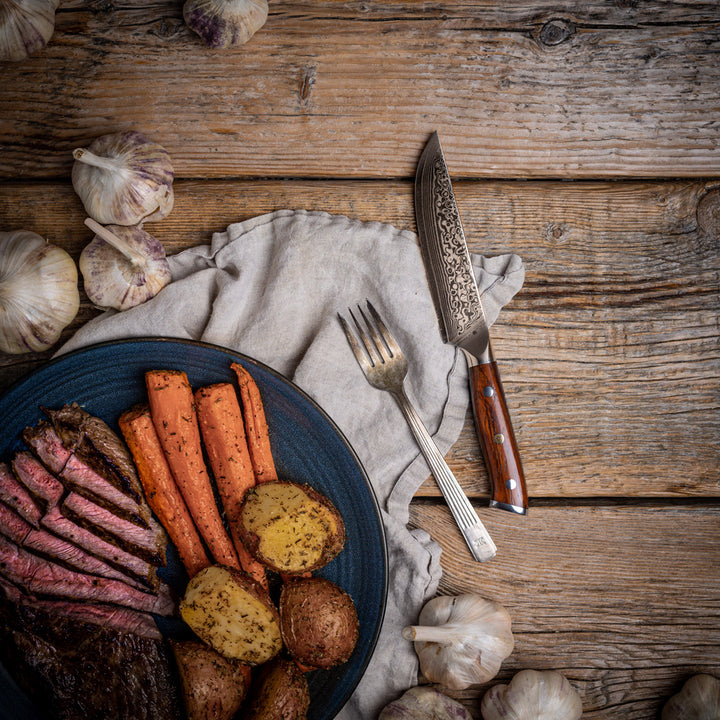 Try It Risk-Free For 30 Days
We stand behind every layer of our forged Damascus steel kitchen knives. Therefore, in the unlikely event that you aren't happy, return it free within 30 days of your original purchase.
We stand behind every layer of forged Damascus steel kitchen knives. Therefore, in the unlikely event that you aren't happy, return it free within 30 days of your original purchase.
Damascus Chef's Knife Specifications

Premium Damascus Steel
Our kitchen knives are made with high-carbon Damascus steel, offering an outstanding balance of sharp edge retention and durability, with 60% more carbon content than other "premium" knives. Precision forged using the traditional hot-drop method, tempered to the perfect hardness (60±2 Rockwell).
15° Blade Angle
While most cheaper Western-style kitchen knives have edge angles of 25 degrees, our extra hardness allows us to achieve a more acute 15-degree angle for a noticeably sharper cutting face.
They're a Father's Day gift, haven't opened them!
Inferior Quality
The knife I received was not perfect. It had little cracks/scores on one side of the handle. With the help of customer support I have returned the knife and now await a replacement.
Amazing Knifes!
I now have every knife is their collection and as a cattle rancher and sheep farmer who sells grass fed and grass finished beef and lamb - and loves to cook - I recommend these knifes to everyone! Thank you! Thank you!
Stunning
Stunning knife to both cit with and to look at
Best knives, best customer service!
This is an absolutely spectacular company. The knives are just amazing and the quality is superb. Customer Service is there for you when you need them and extremely helpful!
Came back for more
I was so pleased with the steak knife set I bought I decided to get the whole set. Excellent Knives
Excellent, every body liked them
Beautifully presented, very well made and pleasant to use. Something that will last a life time. The finish is excellent and the steel holds it's edge. A genuine real classic. I bought more and will probably buy the whole collection.
You won't know how bad your knives really are until you try these!
We bought the set of six steak knives as a gift for Dad. He's always appreciated a sharp knife and has fifty years experience sharpening his own. The sharpness of these out of the box earned his immediate respect. And they're beautiful. We'll be buying more from the collection!
Knifes
Very nice and extremely sharp!!

Take a look at these.
Elevate your kitchen to new heights.
Grab our four best selling blades along with our sleek and minimal knife stand for a serious kitchen upgrade. When bought together, save a whopping 15% on some of the best knives on the planet.
Bundle & save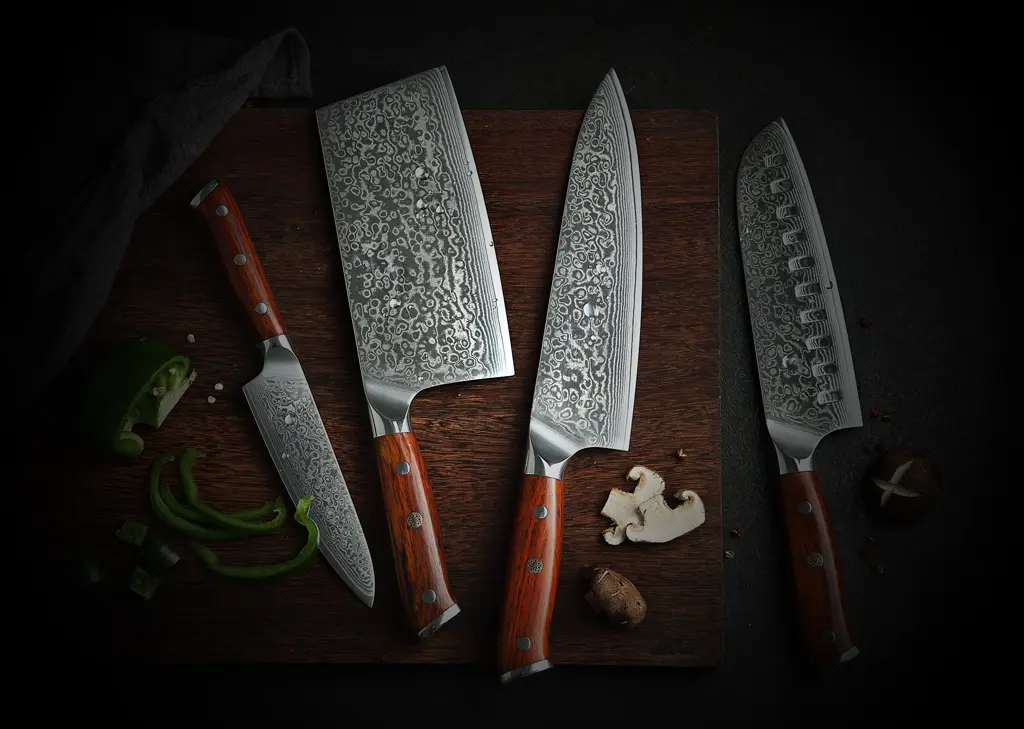 Related blog articles.