Complete Damascus Knife Set
Damascus Knife Set
If you are looking for a knife set complete with razor-sharp blades then you have come to the right place! Highly precise, extremely versatile and visually appealing, the Damascus Knife Set from Knives Et Cetera will make even the most challenging of kitchen cooking experiences that much more enjoyable!
The essentials.
Knife Set Specifications
Premium Damascus Steel
Our Damascus Kitchen set of knives includes high-carbon Damascus steel. In fact, you receive 60 percent more carbon content than with other styles. This provides a better balance of sharp edges and durability. Plus, it was precision-forged with the hot-drop method, so it's tempered to the right hardness. The outcome is 4 premium quality kitchen utensils that deliver whenever required.
15° Knife Blade Angle
While the majority of Western-style products have 25-degree edge angles, the Damascus steel construction of the 4 knives in this set offers a 15-degree option for a sharper cutting face. This means that the 4 knives that make up this set deliver a sharper cut than the competition that is guaranteed to make your kitchen prep that much easier and enjoyable.
What You Get.
With the Damascus knife kit, you get a magnetic knife stand which makes for the perfect display piece to show off your gorgeous knives. The quality Damascus knives included in the set include:
· The 5" utility knife
· The 7" cleaver knife
· The 7" santoku knife
· The 8" chef's knife
The right cutlery is essential, and the Damascus knife set offers all the variety you need and more!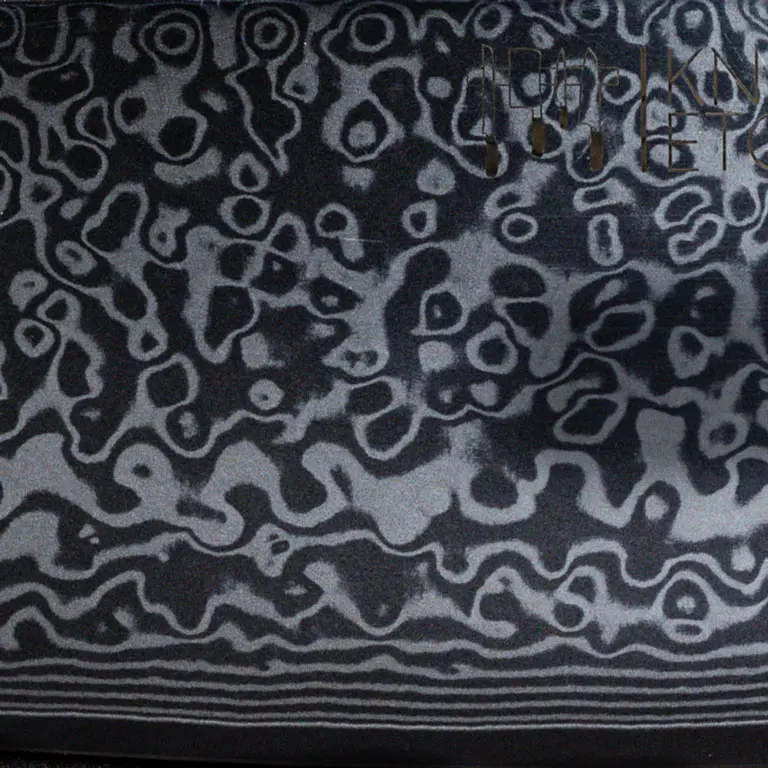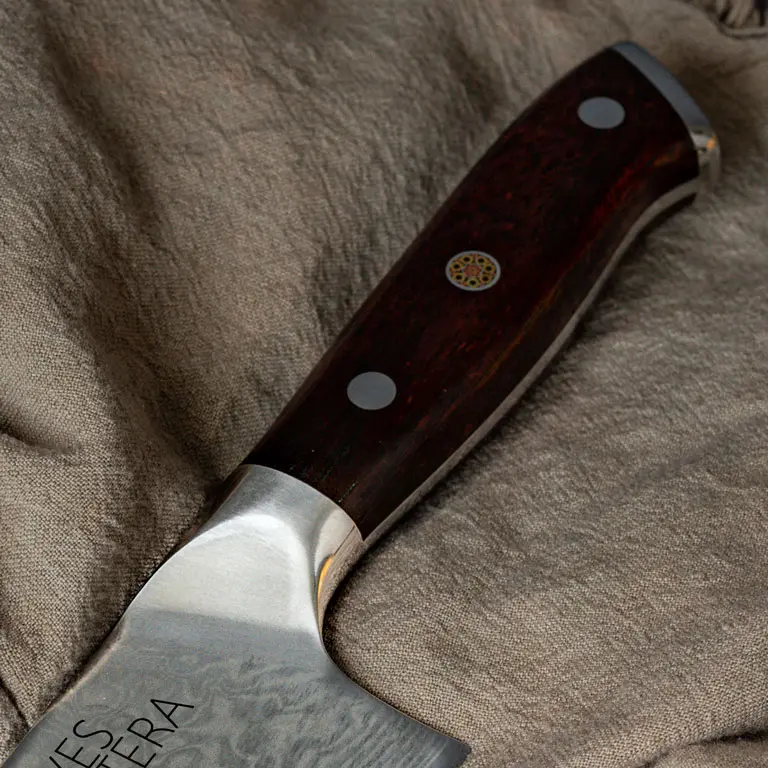 An Abundance of Quality.
Our Damascus Knife Set provides all that is needed to enhance your cooking experience while making your job that much easier. Our Damascus kitchen knives are unrivalled when it comes to usability, efficiency, and quality. And it is thanks in large part to the quality Damascus steel that they possess. The result is a set of Damascus knives made of the highest quality components which deliver time and time again when called upon.
A Beautiful Work of Art.
Ultimately, when you look for a knife, you're focused first and foremost on the practicality of the knives. Feel safe in the knowledge that you will receive extremely high-quality implements but also take note that Damascus offers handcrafted products that are a living artwork. The knives in this set all possess a glorious pattern that makes them so incredibly unique. They are crafted with extreme attention to detail.
Added Benefits of Our Damascus Knife Set
A Complete Set

You want a complete set with a style and Damascus pattern that can't be beaten. This beautiful set of knives is available to buy, and you'll be saving money. Plus, the design is such that you get approximately 33 layers on each side of the blade. Cutlery has never been this fantastic and easy on your hand.

Easy to Clean

The knives are crafted with a Japanese-style damascus steel core that includes 67 layers in the blade. This offers more accuracy and precision. Plus, the integrated blade design and the shank can't be broken easily. It's safe for your hand and is quite easy to clean.

Easy to Care For and Store

The magnetic knife stand includes strong magnetic bars inside the board. That way, the knives stay in place. Plus, it offers an angled appearance, so it fits on any countertop. Buy the entire set today and save money while having the best products that money can buy. Instead of a regular knife block, you get this beautiful stand. It's stronger and more robust than a block, and it can add some flair to your kitchen. The material used is acacia wood, so it's heavy-duty and can handle the sharp blades effortlessly.
The Best Uses for Your Damascus Knife Set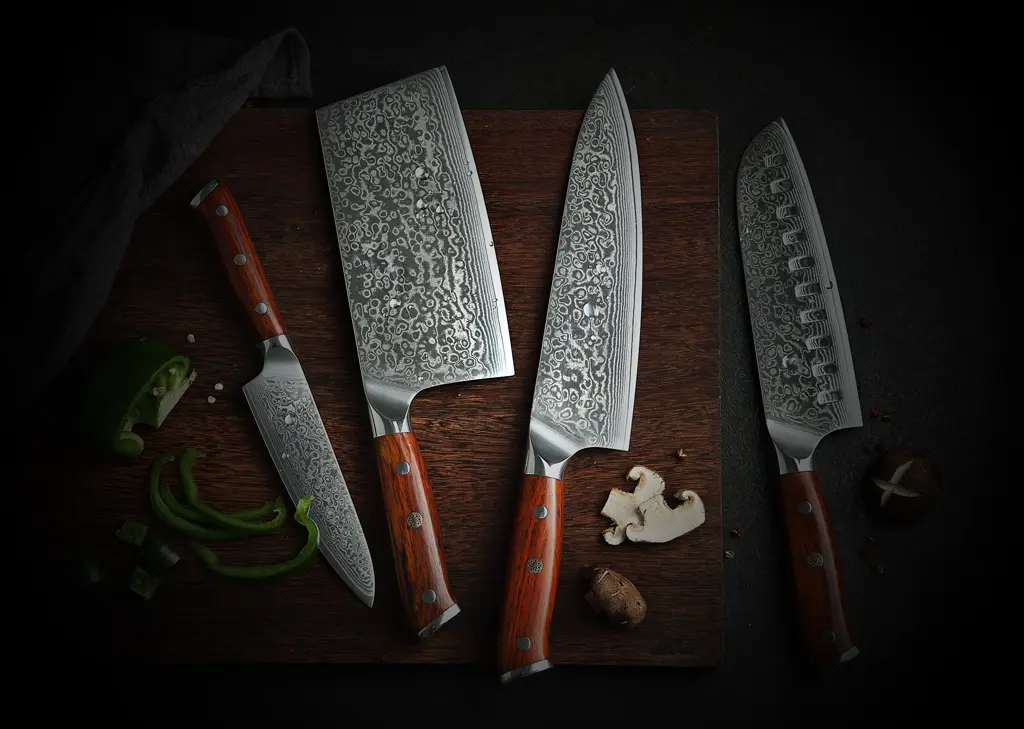 With our Damascus knife set you end up with all the tools required to get even the most arduous of cooking tasks done. The four knives are most effective when used to perform the following tasks:
UTILITY KNIFE
Great for peeling, slicing and trimming fruit and vegetables
CLEAVER KNIFE
Ideal for carving through dense meat and hard shell vegetables
CHEF'S KNIFE
The all-rounder of the group, great for almost any kitchen task
SANTOKU KNIFE
Perfect for precision kitchen tasks to add a bit of flair
With all 4 knives in your inventory, there is no task too great! Thanks to the sharp blade and tremendous design you'll be able to perform all manner of kitchen preparation with the greatest of ease.
Your Tools for Life
Most of the common knives you use get blunt quickly. It makes slicing and dicing a hazard and poor experience. Each blade here in our Damascus knife set is designed to stay razor-sharp, and it also has the durability and precision that we all crave when it comes to kitchen utensils. Ensure you provide proper care and sharpening practices when required and you'll soon find that this is the best kitchen knife set you'll ever buy.
Amazing knife set
Very good quality and presentation
Wedding Gift for Godson and Bride
I bought a set when my daughter got married a couple years ago and really enjoyed watching them open each knife with ever increasing astonishment of the fineness as they found their home on the magnetic rack. A true thing of beauty. Seemed like a great idea to gift the Godson and bride. I'm hoping they are no social taboos for giving knives as a wedding gift! Keep up the good work 🙏🏻
I love these knives. They are so sharp, & make meal prep go by so much faster! Like another reviewer said, the cutting board could use a better magnet 🧲 but that's my only complaint. The packaging these knives come in is pretty and the damascus steel is 🤌🏻🤌🏻.
Beautiful knives
The knives are great but the magnetic board they attach to isn't strong enough. Needed to add more magnets to get it to work.
Beautiful set but.....
The set of knives I purchased are definitely beautiful but.... I used the cleaver to chop up some chicken with bones in it and the cutting edge became chipped in several spots before I noticed. It's pretty much ruined. The knives are very sharp tho. I would like to know if I can possibly get the cleaver replaced..??
UPDATE..!!
So I contacted knivesetcetera and was replied to immediately. I was basically scolded for using my cleaver incorrectly and reminded that it is clearly stated on the website not to use this cleaver in that fashion. Then... they offered to replace my cleaver if I paid for shipping..!! I have since received my new cleaver and my set is now once again complete, beautiful and SHARP..!! I give knivesetcetera a full 5 stars for the quality of the knives and for the impeccable customer service..!!
Hi Mark,
Thank you for your review. My team has informed me they already replaced the item for you. Vegetable cleavers are not for chopping bone, however we may release a bone cleaver this year as it's a popular ask.
As always, contacting us at info@knivesetcetera.com is the best and fastest way to resolve your issue.
Thanks again,
Knives Et Cetera
I bought my set of these knives last year, I just purchased these for my daughter as a Christmas present because I love mine!
Complete Damascus knife set and the Paring knife
My husband asked me what I wanted for Christmas, I told him I wanted a good knife set. He let me order this and now I'm throwing out all my knives and these are my only knives I use. I did not know cooking could be so enjoyable with sharp sharp knives. My husband has his own butcher set of knives and has turned to borrowing my knives now. I wasn't able to use his knives he wouldn't let me I'm really tempted to tell him he can't use mine. But I won't. These are the most beautiful knives I've ever seen and the sharpest they really make life nice. I am 65 years old I should've done this years ago.
Sharp in two ways
I love my knives. They're gorgeous AND useful.

Take a look at these.
Related blog articles.