Sign Up
for news, tips & special seasonal
discounts
Extended Holiday Returns - Buy now, return until Jan 25
Acacia Wood Magnetic Knife Stand
CA$190 CA$108
Magnetic Knife Stand
Have you considered purchasing a magnetic knife holder? Made from Acacia Wood, the knife stand has powerful recessed magnetic bars within that keep knives in place and the angled design allows it to sit flush on any countertop.
Stand them straight.
Why Magnetic Holders are the perfect kitchen additions
A double-sided magnetic knife block or holder is one of the safest and most convenient options to store your knives and prevent awful accidents. A few individuals claim and review that a double-sided magnet bar can trigger molecular imbalance and misalignment in your stainless steel products; however, this is not the case!
We recommend that you look for kitchen knife blocks with solid, long-lasting magnets hidden within, whether it is a double-sided holder or a strip to increase the protection offered. When a standard magnet is used in the cheaper models of holders, they may lose their strength quickly, allowing the knives to easily slip off the holder.
The magnets in a sturdy kitchen knife stand are concealed inside the related wooden structure, making them neat, secure for your knives, and still incredibly solid. Good magnet strips keep the knives securely in place on the stand and close them with a satisfying snapping sound. If you are going to use a wall strip, choose one with a non-metal area. Unlike metal magnet shelves, a wooden structure prevents the item from scratching or chipping, which keeps them sharp.
What are the Advantages of a Wooden Knife Display Stand?
These knife blade stands are a simple, stylish, and sleek way to organize your blades and hold them off the table. They are easily accessible because all you have to do is look and select your preferred knife. Most significantly, they maintain the stability of the edge, preventing damage to the knife or its tip.
Many brands offer these products in different materials and forms; therefore, when shopping you are bound to find one at a price that fits your budget. Whether you are looking for a wood knife stand, Japanese knife stand, non-slip, walnut, or bamboo knife holder, you can most probably find one. You can also find products suitable for products of different inches; choose the inch size that best fits your collection.
Where Should a Knife Holder be Placed?
On your counter space

The modern and stylish aesthetic means that you can place this natural wood object on your counter or next to the wall, and it is going to blend right in with the decorations.

Behind or next to the stove

If you like to emphasize convenience, this is ideal for you. Placing the stand behind or next to the stove speeds up your cooking process and saves you time.

On the window sill

This is the perfect place to keep your holder out of direct reach but easily accessible.

Inside your cabinets

While this is a more traditional approach, it is extremely trustworthy.
What are the Disadvantages of Magnet Utensil Holders?
When magnet stands are removed, they place pressure on the knife's hinge, which can stress the knife's durability over time. Additionally, magnet holders are not suitable for use in the kitchen with children unless they are placed high enough that the utensils are out of reach. You also cannot use these objects with ceramic tips, as you may have guessed. Feel free to check the reviews on a product before you add it to your cart and handle the shipping needs.
The Bottom Line
Are you ready to add one of these holders to your collection? Review your various options before you add one of these sleek holders to your marble, bamboo, or glass tabletop.
Looks very smart but the smaller knives do not stick as well as I would like and the largest knife pulls the rack over if I try to grab it.
Theo and his amazing knives
Thank you for making my chopping and cooking experience over-the-top with your beautiful knives and the magnetic stand is a highlight in my kitchen.
Magnetic Knife Stand
Works well for my clevers.
Acacia Wood Magnetic Knife Stand
Great kitchen addition
Our kitchen now looks like great cooks life here! The Acacia Magnetic Knife stand really looks good on the dark counter top. The stand is very solid, balanced and sturdy. We have 5 pretty knives for easy access. Delighted with this product.
Knife holder
Knife holder We received for Christmas with no holder. It would've been nice if they had covers that came with them so you didn't have to buy a holder. In the holder is so thick it won't fit behind my stove. So it's OK
Magnetic knife rack
I like this much better than your standard block. First of all you could see which knife is which. Seems to work well and be a good quality. It did exactly what I wanted it to do and looks good.
Wood knife stand
This sadly arrived damaged but was very swiftly replaced by Knives etcetera. It was a present for my son and he was very pleased with it. Thankyou
Acacia Knife stand
The board is beautiful and holds the knives well. My issue with the board is it is not balanced so when you remove the knife, the board moves and tilts.
Good product and quick delivery

Take a look at these.
Elevate your kitchen to new heights.
Grab our four best selling blades along with our sleek and minimal knife stand for a serious kitchen upgrade. When bought together, save a whopping 20% on some of the best knives on the planet.
Bundle & save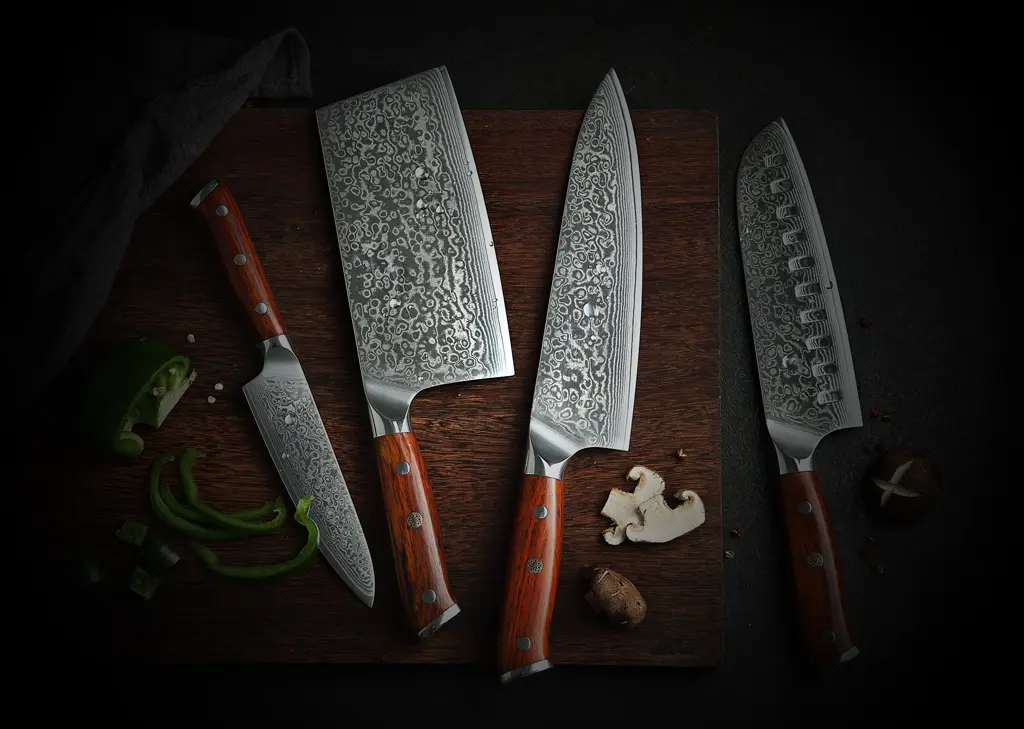 Related blog articles.