7" Damascus Santoku Knife
Damascus Santoku Knife
Become the kitchen wiz' that you have always wanted to be! A master of the culinary arts is nothing without their tools, and one of the most essential is the knife. Don't miss out on quality and precision--upgrade your kitchen with the Damascus Santoku knife from KNIVES ETCETERA®
A Work of Art
Our Damascus steel kitchen knives are unmatched in quality, efficiency, and usability. From the sharper bevels that keep their edge to the lifetime of use thanks to their durability.
Most kitchen knives we use in the west quickly become blunt, making slicing and dicing an experience to dread. Our top-tier blades stay razor-sharp and have the durability to last a lifetime.
Elite Among Blades
Our Damascus Santoku Knife is truly elite among Japanese knives - perfect for an experienced chef's arsenal or as an excellent gift for the aspiring cook.
Its razor-sharpness is capable of handling everything from hardened veggies to dense meats. No matter the item on the cutting board, you can be safe knowing that our 7" Damascus Steel Santoku Knife will handle it easily!
Masterfully Crafted to Last a Lifetime
Our signature Damascus steel kitchen knives are the finest in craftsmanship, materials, and performance. With 67 layers of Damascus steel enamored on either side, these beautiful blades will stay with you for some time.
Forged in Legend
Damascus steel has a history of being forged into legendarily sharp blades, claiming that it could split a hair simply by falling on the blade's edge.
Previously lost for centuries, modern blacksmiths have recovered this ancient forging technique. And now, we're bringing it to you.
Try It Risk-Free For 30 Days
We stand behind every layer of our forged Damascus steel kitchen knives. Therefore, in the unlikely event that you aren't happy, return it free within 30 days of your original purchase.
We stand behind every layer of forged Damascus steel kitchen knives. Therefore, in the unlikely event that you aren't happy, return it free within 30 days of your original purchase.
Damascus Chef's Knife Specifications

Premium Damascus Steel
Our kitchen knives are made with high-carbon Damascus steel, offering an outstanding balance of sharp edge retention and durability, with 60% more carbon content than other "premium" knives. Precision forged using the traditional hot-drop method, tempered to the perfect hardness (60±2 Rockwell).
15° Blade Angle
While most cheaper Western-style kitchen knives have edge angles of 25 degrees, our extra hardness allows us to achieve a more acute 15-degree angle for a noticeably sharper cutting face.
Outstanding Quality Knives and Customer Service
I ordered the set of Damascus Knives and got the magnetic Board for free to display them on .
There was a slight mixup with the 7 " Damascus Santoku knife but customer service took care of it right away !!!
I want to order the steak knives next!!
Don't hesitate to order you will not be disappointed. They are a 10 in my book .
Quality,Beauty and Service rolled into one and they really take care of their customers .
Santoku
The knife is so sharp we bought 3 more , very nice to use
7" Damascus Santoku Knife
"Chef's favorite"
Great balanced, every day chefs major tool.
7" Damascus Santoku Knife
Beautiful Knives, Fast Shipping!
I got a few knives and the stand for my boyfriend for his birthday. They arrived sooner than I had expected. I have also been receiving emails from the company with helpful information about how to care for the knives. Wonderful company and my boyfriend loves the knives!
The Best Knife
This knife is the best knife I have ever owned and used for that matter. And I love the look of the knife. It feels great in my hand.
Very nice knife…
I was pleased with this knifes build quality and balance….I have used Henkel 5 stars for thirty years or so and love them. This knife definitely stand up to the Henkels.

Take a look at these.
Elevate your kitchen to new heights.
Grab our four best selling blades along with our sleek and minimal knife stand for a serious kitchen upgrade. When bought together, save a whopping 15% on some of the best knives on the planet.
Bundle & save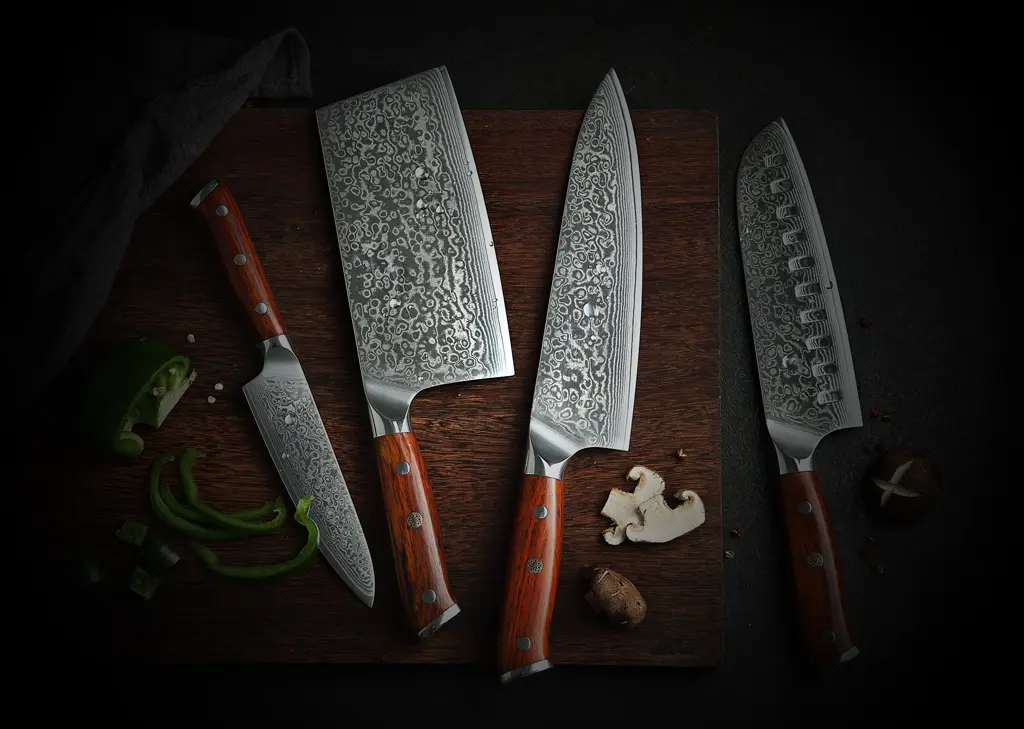 Related blog articles.