Whetstone Knife Sharpener
Whetstone Knife Sharpener
You can easily master the culinary arts if you have the right tools, and the most essential of them is a whetstone knife sharpener. Our sharpening stone makes it so much easier to get the razor-sharp quality you need in all of your kitchen knives.
Keep them sharp.
Sharpening Whetstone 1000/6000 features
When you purchase the KNIVES ETCETERA® Sharpening Whetstone then you receive the following:
Grit.
With this whetstone cutlery sharpening stone, you get two grit variations. When are you going to need them? Well, the coarse grit is 1000-grit, and it can get that dull blade back to its sharpened point quickly. There's also a 6000-grit side, which smooths and polishes your sharpened knife. You need that to finish the process and get rid of any metal shavings. Dual grit sharpening is an excellent choice for most people, and whetstone knife sharpening is a great thing to master. We know how tough it can be, but you just have to practice! Our dual-grit whetstone knife sharpener is thin and easy to handle. On top of that, it has the features that you know and love. You can use it on all the knives in your home, though it doesn't work well for serrated knives.
Bamboo Base.
Every water stone needs to have a base that you hold onto. That way, you're not rubbing away the skin on your hands. That's no fun! The sharpening whetstone offers a bamboo base, so it's going to look amazing in the kitchen. You don't even need to keep it in the drawer. Let it sit out so that you always remember to use your water stone! You're going to like the base features some rubber padding to help it stay in place. That way, it's not going to move around all the time when you're not using it. Sharpening kitchen knives is much easier with the added silicone base. This sits right between the base and water stone to keep the unit stable while you're sharpening your knives!
Angle Guide
Grit sharpening is the best way to go here, but we also included an angled guider to help you hold your knives at the right angle. That way, you can apply the right amount of pressure when sharpening your tools. It's also safer, so beginners can use the water stone easily!
How to Use the Whetstone Knife Sharpener.
Using a whetstone knife sharpener can be a little scary at first because you don't want to cut yourself. Let's find out just how to use your whetstone knife sharpener!
The first thing you should do is get it out of the drawer and inspect it. Make sure that both sides are ready to go. Now, you should gather all of your knives, such as pocket knives and others. You want the knives sharp as can be, so this next step is important!
Soak the stone in water for a few minutes. A sharpen-up whetstone needs to be wet for it to work correctly! Place the knife at an angle so that the edge is on the sharpening stones. Move the edge back and forth from one end of the Japanese natural whetstone to the other.
You should stop periodically to check the edge and make sure it is sharp. The fine side is used for honing the blades while the other side can be used to polish it up and make it shine again.
Sharpen the edge of your cutting tools frequently so that they are always sharp. It's ideal to do this all at once, but you may find that you need to sharpen a few cutting tools more often because you use them more.
Keeping your knives sharp is an essential element of effective knife care and you can't go wrong with a sharpening whetstone. We hope that you enjoy your whetstone knife sharpener set.
Whetstone knife sharpener
I'm very pleased and satisfied.
A novice's second sharpening
My second attempt at knife sharpening and first time using this combo stone, I worked out a $30 chef's knife with several nicks in the blade. I got the nicks out and felt like I had a nice sharp knife when finished. So far this stone has been great.
Excellent and Easy
The whetstone is easy once you play with it for a while and watch the video on how to use it! Got My razor sharp blade back again! Love the other side of the stone to polish my blade and make it look brand new!
Whetstone Knife Sharpener
Knife set
Absolutely beautiful knife set. They are truly the sharpest knives I've ever touched,
Great product
Instruction video online made it really easy to use. Looks really durable and professional. Customer service was great when needed too
Showcase
Received our knife set just in time for Christmas dinner. The knives were the main talking point as everyone was cutting their prime rib and ham. The steak knives cut through the meat like butter. Everyone was in awe of their sharp edge and kept commenting on how beautiful the blades and handles were. A great showpiece and a truly good knife.
Christmas present for my son
The stone looks lovely but unfortunately arrived broken. I had to glue two sides off the frame back together after realigning the pins. One pin hasn't even been centered and hidden on one piece of the frame which remained in tact, making it look cheap. The block has obviously been dropped in transit but I couldn't be bothered to send it back, so i have fixed it myself. Very disappointed, but only with the weak frame beading. My son has some amazing knives so I'm hoping he will like the stone. The box has a dent in one corner where it must have been dropped, so i would suggest better packaging, or a different design of wooden frame, maybe made from one piece of wood. I'm sure my son will love it when he receives it for Christmas though, but not a god start for me I'm afraid.
Hi Mrs P,
Thank you for your review. While we didn't drop and break your item item, we will and have replaced similar mishaps in the past. As all items are insured, please email your photos of the damage to the item and its packaging to info@knivesetcetera.com and we'll get you a new item right away!
Thanks again and merry Christmas,
Knives Et Cetera
Whetstone Knife Sharpener

Take a look at these.
Elevate your kitchen to new heights.
Grab our four best selling blades along with our sleek and minimal knife stand for a serious kitchen upgrade. When bought together, save a whopping 15% on some of the best knives on the planet.
Bundle & save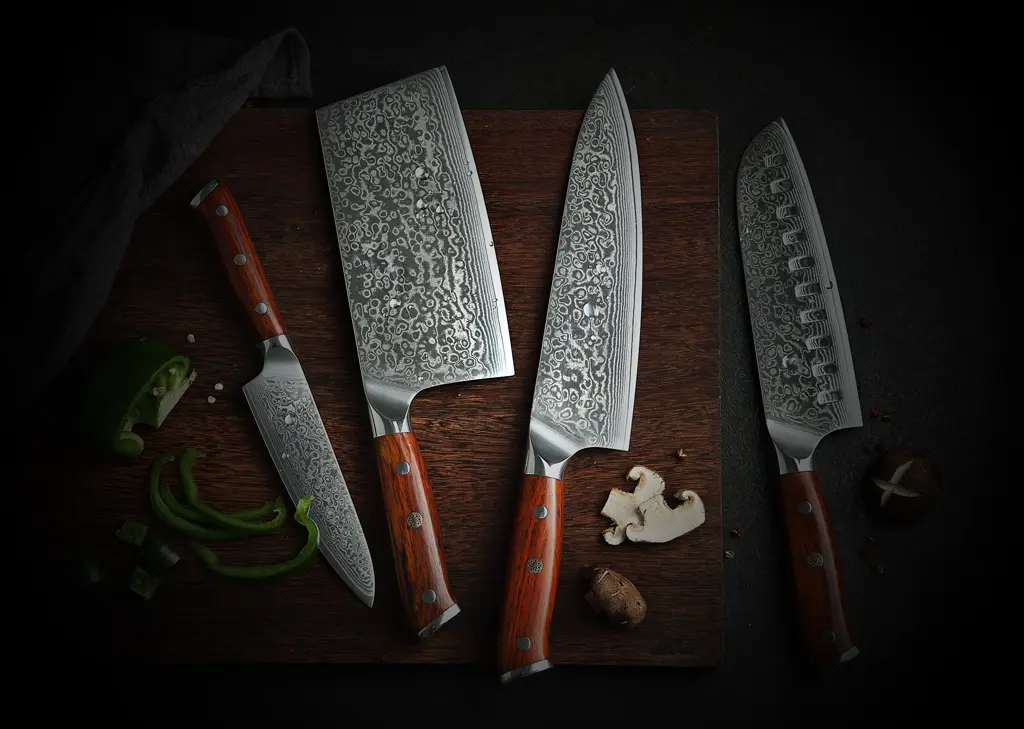 Related blog articles.