7" Damascus Cleaver Knife
Damascus Vegetable Cleaver
Thanks to an outrageously sharp edge and solid but balanced weight, the Damascus vegetable cleaver knife from KNIVES ETCETERA® can handle almost any task you place before it. Consisting of handmade Damascus steel, this Damascus steel cleaver will make your life much easier. It is the powerhouse knife in our range and a must-have for cutting up hard vegetables, dense meats, and cartilage.
A Work of Art
Our Damascus steel kitchen knives are unmatched in quality, efficiency, and usability. From the sharper bevels that keep their edge to the lifetime of use thanks to their durability.
Most kitchen knives we use in the west quickly become blunt, making slicing and dicing an experience to dread. Our top-tier blades stay razor-sharp and have the durability to last a lifetime.
A Compelling Kitchen Upgrade
Whether you're starting your cooking journey, a kitchen enthusiast, or a culinary wizard, this Damascus steel Cleaver Knife will elevate your game.
The weight and momentum of this beefy blade make big kitchen tasks seem like hot knives through butter.
Masterfully Crafted to Last a Lifetime
Our signature Damascus steel kitchen knives are the finest in craftsmanship, materials, and performance. With 67 layers of Damascus steel enamored on either side, these beautiful blades will stay with you for some time.
Forged in Legend
Damascus steel has a history of being forged into legendarily sharp blades, claiming that it could split a hair simply by falling on the blade's edge.
Previously lost for centuries, modern blacksmiths have recovered this ancient forging technique. And now, we're bringing it to you.
Try It Risk-Free For 30 Days
We stand behind every layer of our forged Damascus steel kitchen knives. Therefore, in the unlikely event that you aren't happy, return it free within 30 days of your original purchase.
We stand behind every layer of forged Damascus steel kitchen knives. Therefore, in the unlikely event that you aren't happy, return it free within 30 days of your original purchase.
Damascus Chef's Knife Specifications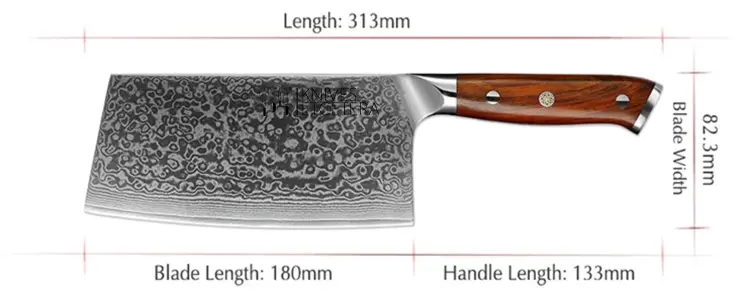 Premium Damascus Steel
Our kitchen knives are made with high-carbon Damascus steel, offering an outstanding balance of sharp edge retention and durability, with 60% more carbon content than other "premium" knives. Precision forged using the traditional hot-drop method, tempered to the perfect hardness (60±2 Rockwell).
15° Blade Angle
While most cheaper Western-style kitchen knives have edge angles of 25 degrees, our extra hardness allows us to achieve a more acute 15-degree angle for a noticeably sharper cutting face.
7" Damascus Cleaver Knife
Very well built
It is a very nice knife that functions to perfection. Only reason for 4 star is because the thing that would have made it better is if it showed up with sharp edges. Out of the box it was like a butter knife. I will not hold that against the company and the manufacturing skills. Mistakes happen. I will definitely order from here again.
Beautiful knife love the balance very sharp
ALWAYS SATISFIED
Love the product and customer service!!
Christmas Present
My Wife didn't have a Cleaver and she loves the beauty of Damascus Steel Knives. I ordered the 7" Damascus Cleaver Knife for one of her Christmas presents. It arrived very quickly and was packaged very nicely. The best part was the incredible beauty and finish of the Cleaver's steel. She's going to be elated! Thanks Theo and Et Cetera for having such beautiful quality knives.
Damascus cleaver
The order was lost in shipment. You made sure that I received the item by sending me another one. Very accommodating . I would order from you again!! Thank you !!
7" Damascus Cleaver Knife
Good:
Very nice looking knife
Feels like good quality
Haven't had the need to use yet, but hopefully this weekend
Not so good:
However, the presentation box was damaged on arrival!
Luckily, contents seemed okay.
Great knife, but…
Love the knife…great cleaver. The only problem is the rivets on the handle are not flush with the wood. They pertrude and rub a bit on your hand.
Had to replace
Had to replace my 7 " Damascus Cleaver due to the tip breaking off. Did not know how to do warranty claim.

Take a look at these.
Elevate your kitchen to new heights.
Grab our four best selling blades along with our sleek and minimal knife stand for a serious kitchen upgrade. When bought together, save a whopping 15% on some of the best knives on the planet.
Bundle & save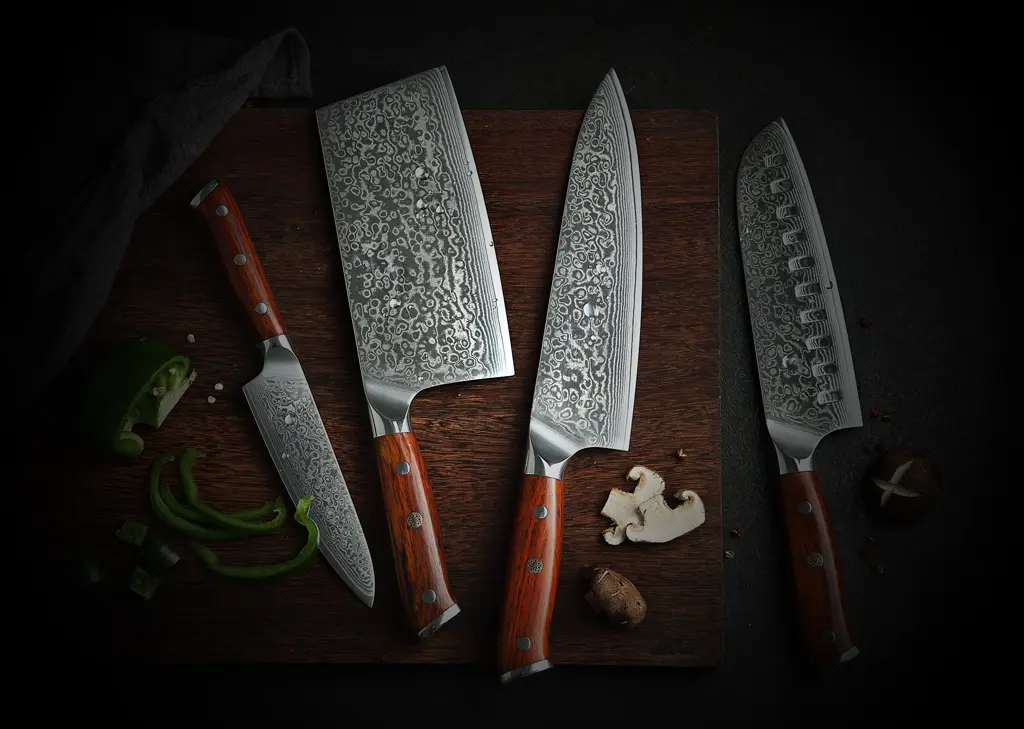 Related blog articles.