3.5" Damascus Paring Knife
Damascus Paring Knife
Become the chef you have always wanted to be! This 3.5-inch paring knife is an essential tool for anyone looking to become a master of the culinary arts. Peel your vegetables and fruits more easily thanks to this knife's superior peeling, cleaning, and cutting control.
A Work of Art
Our Damascus steel kitchen knives are unmatched in quality, efficiency, and usability. From the sharper bevels that keep their edge to the lifetime of use thanks to their durability.
Most kitchen knives we use in the west quickly become blunt, making slicing and dicing an experience to dread. Our top-tier blades stay razor-sharp and have the durability to last a lifetime.
Small But Mighty
Our Damascus Paring Knife is a short, slim, evenly-sized blade with a pointed tip. Its lightweight frame allows for easy handling during delicate work.
Many say the Paring Knife is a miniature Chef's Knife, perfect for delicate items like shallots, garlic cloves, herbs, or even pitting and chopping dates.
If you haven't experienced the power of this handy little knife, you're in for a treat.
Masterfully Crafted to Last a Lifetime
Our signature Damascus steel kitchen knives are the finest in craftsmanship, materials, and performance. With 67 layers of Damascus steel enamored on either side, these beautiful blades will stay with you for some time.
Forged in Legend
Damascus steel has a history of being forged into legendarily sharp blades, claiming that it could split a hair simply by falling on the blade's edge.
Previously lost for centuries, modern blacksmiths have recovered this ancient forging technique. And now, we're bringing it to you.
Try It Risk-Free For 30 Days
We stand behind every layer of our forged Damascus steel kitchen knives. Therefore, in the unlikely event that you aren't happy, return it free within 30 days of your original purchase.
We stand behind every layer of forged Damascus steel kitchen knives. Therefore, in the unlikely event that you aren't happy, return it free within 30 days of your original purchase.
Damascus Chef's Knife Specifications

Premium Damascus Steel
Our kitchen knives are made with high-carbon Damascus steel, offering an outstanding balance of sharp edge retention and durability, with 60% more carbon content than other "premium" knives. Precision forged using the traditional hot-drop method, tempered to the perfect hardness (60±2 Rockwell).
15° Blade Angle
While most cheaper Western-style kitchen knives have edge angles of 25 degrees, our extra hardness allows us to achieve a more acute 15-degree angle for a noticeably sharper cutting face.
Wonderful knife!
These knives are gorgeous, solid, a pleasure to hold and extremely sharp! I've only had them for a week or so but already can't imagine cooking without them.
Excellent knife
Beautiful, razor-sharp knife. Very fast delivery. Thank you.

Take a look at these.
Elevate your kitchen to new heights.
Grab our four best selling blades along with our sleek and minimal knife stand for a serious kitchen upgrade. When bought together, save a whopping 15% on some of the best knives on the planet.
Bundle & save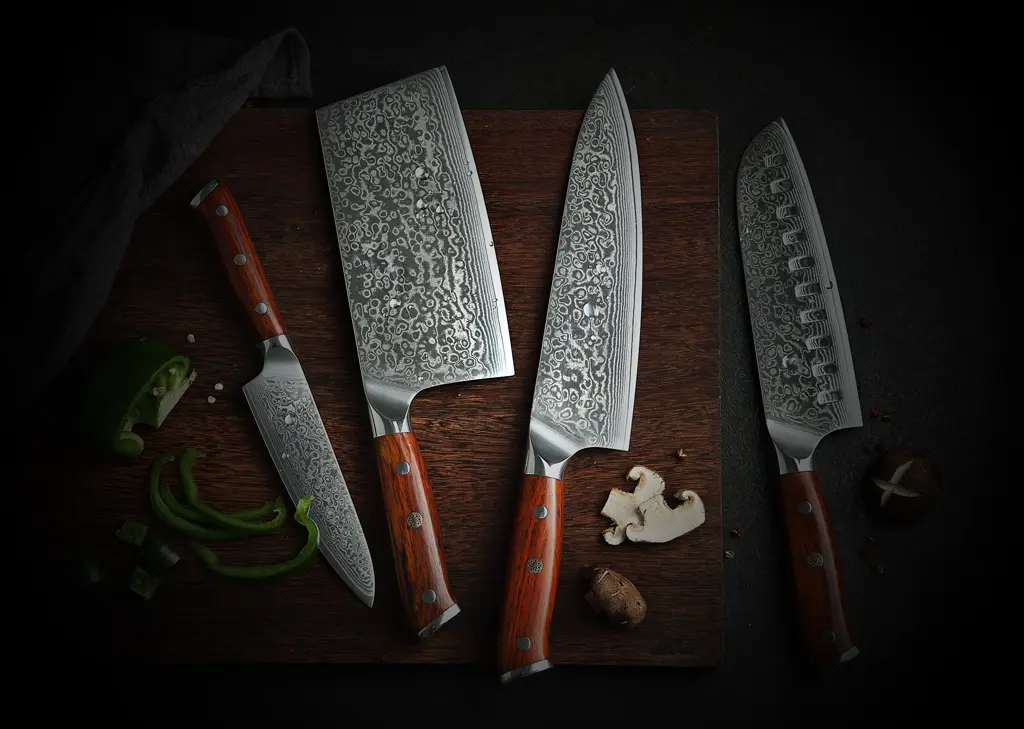 Related blog articles.